StoryWalk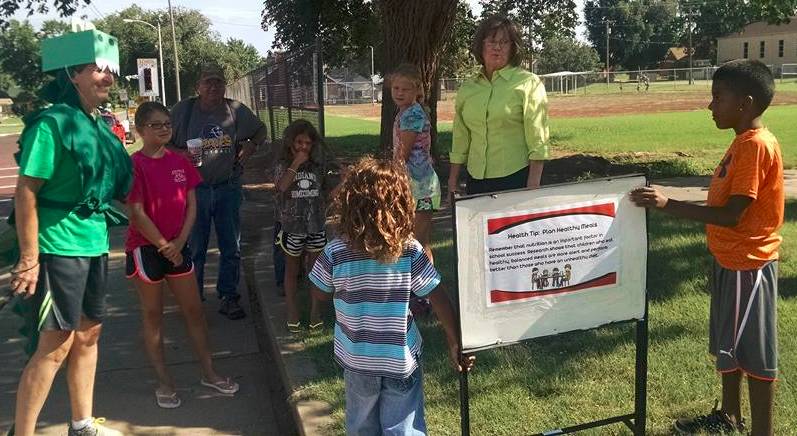 School Librarian and Lincoln Librarian visit with a group of participants.
The StoryWalk® Project was created by Anne Ferguson of Montpelier, VT and developed in collaboration the Kellogg Hubbard Library. Storywalk® is a registered service mark owned by Ms. Ferguson.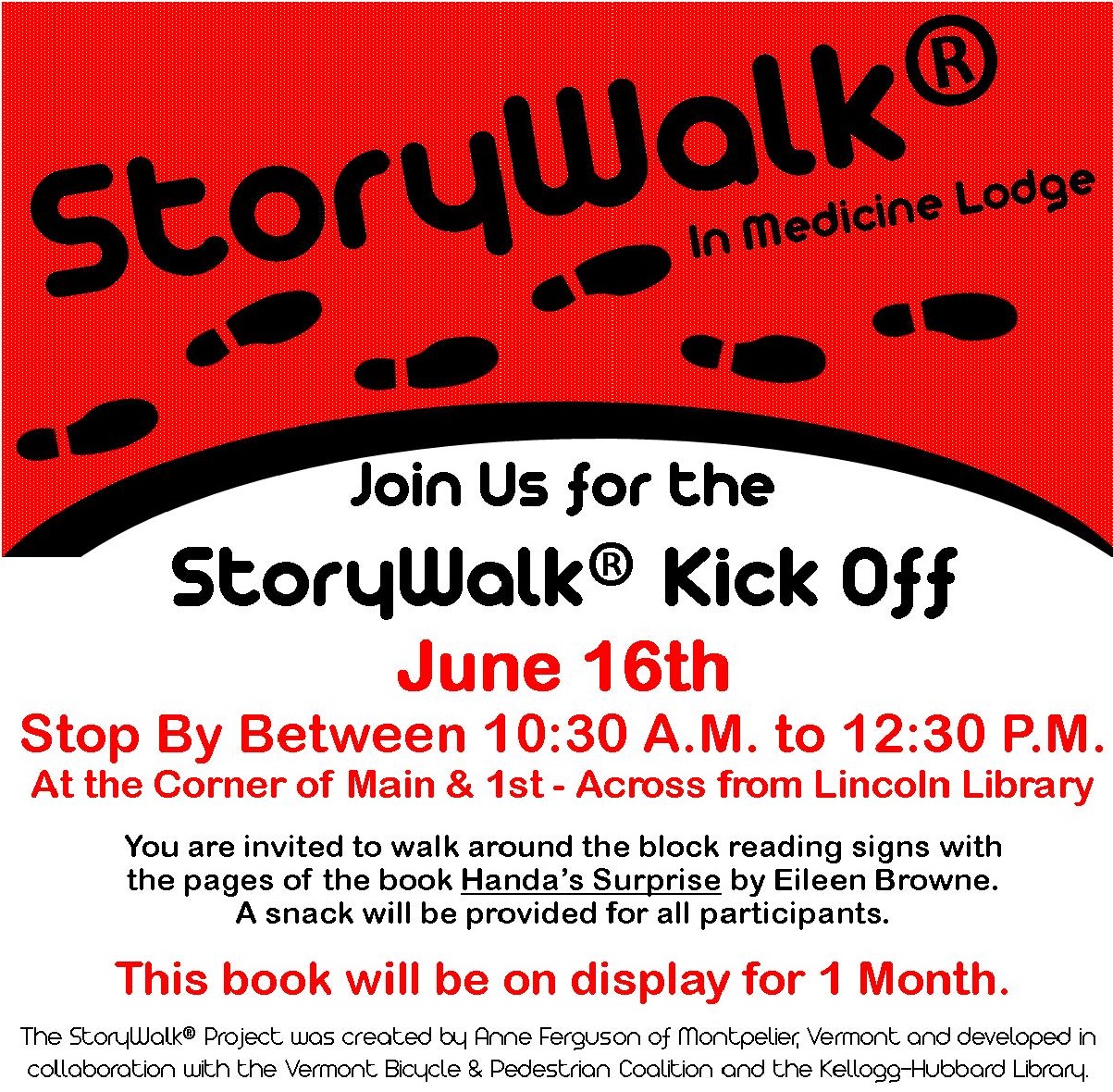 Logo was developed to create a identity for all fliers and posters.
StoryWalk is a family activity.
Books Used in Barber County
Handa's Surprise by Eileen Browne
If You Give A Moose A Muffin by Laura Joffe Numeroff
If You Ever Want to Bring an Alligator to School, Don't by Elise Parsley
Considerations in Preparation
Buy 2 copies of each book, 3 if you want to be prepared for vandalism. Copying pages violates copyright laws.
Small books can be mounted on colored paper before laminating to increase visibility.
For 2 sided signs, nutrition and literacy tips are great for the back side.
Number all signs. This eases posting and also helps counting skills in young readers.
If metal signs are not available, here is a StoryWalk that used wooden posts.
Barber County Details
Posted at Medicine Lodge Central Office Location - The schools owns most of the city block. StoryWalk is 1/4 mile long without crossing any streets.
The location is on Main Street and across the street from the Lincoln Library (City Library).
Partners - Lincoln Library and School Librarian
Other Community Members donated supplies including sign holders (Real Estate Agent) and paint (Hardware Store)
Marketed to SNAP Ed Audience to include a snack through SNAP Ed Grant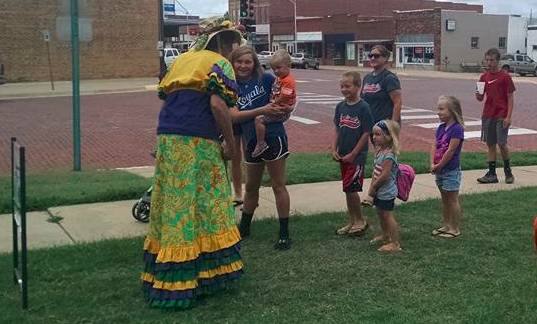 A view of the start of StoryWalk on Main Street.
Kick Off Events
1.5 to 2 hours on the day the book is revealed.
Coordinated time with Summer Reading Program at Lincoln Library
Snacks provided.
Attendance ranged from 41 to 104 participants during kick off event
Costumes add to event
Newspaper coverage at event in addition to advance advertising
Snacks included:

Tropical Fruit Dip and 1/4 of an apple
Mini Muffins - Banana or Blueberry
Frozen Applesauce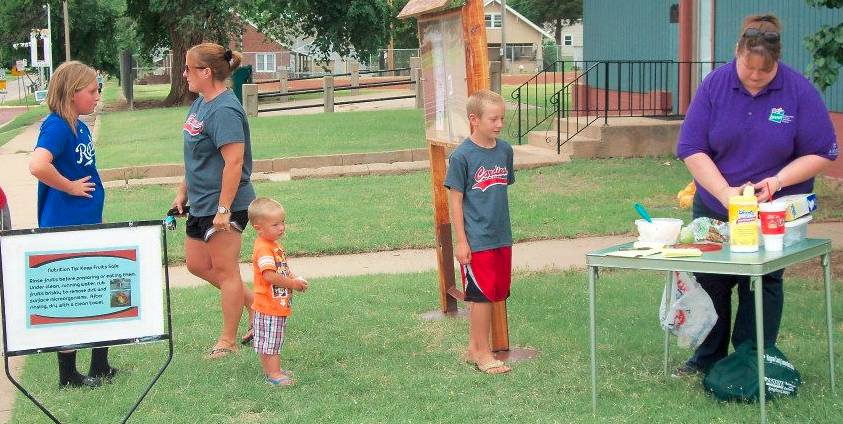 Healthy snacks were included with the Kick Off Events.
Results
Largest Kick Off was June with 104 participants.
Community members of all ages report walking through out the month.
Senior participant borrowed neighborhood child to attend Kick Off.
Families are walking together and practicing reading skills.
Participants tasted new healthy snacks. 1 participant reported not liking yogurt, but loving the Tropical Fruit Dip that includes yogurt, and plans to make it again at home.
Health and Literacy tips have generated comments that they shared new information.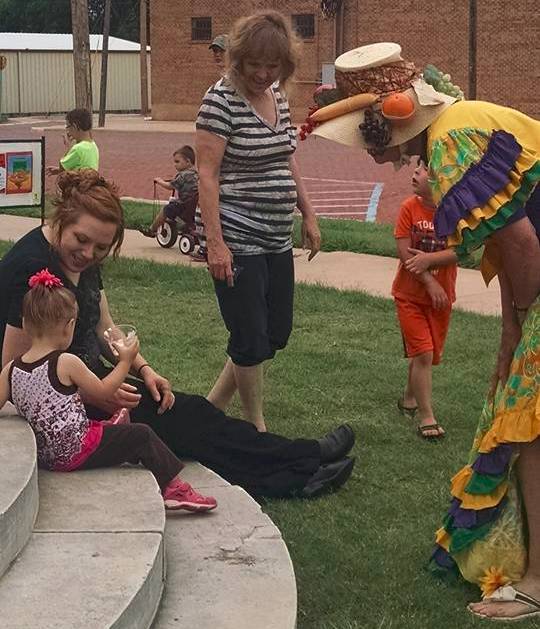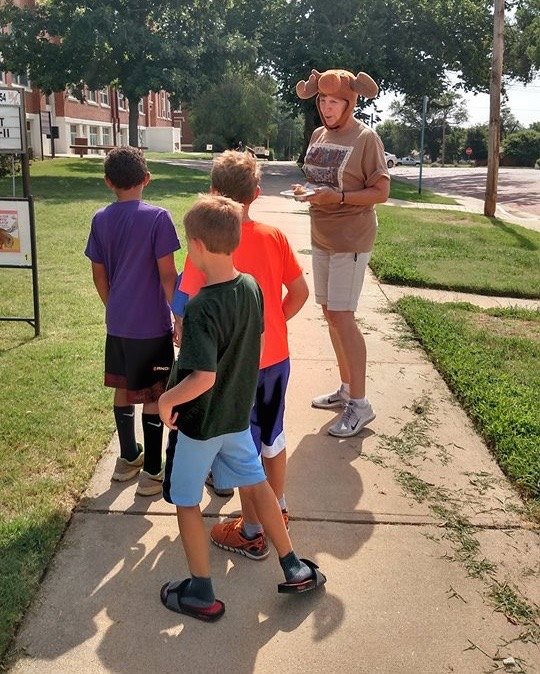 The School Librarian dressed up for each book. She invited each participant to read "her" story.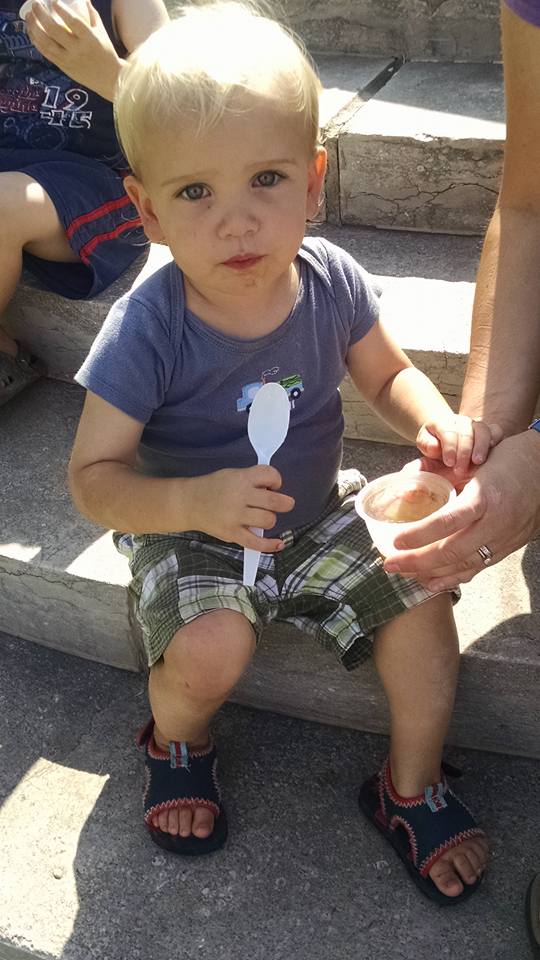 Frozen Applesauce was a big hit in the August heat.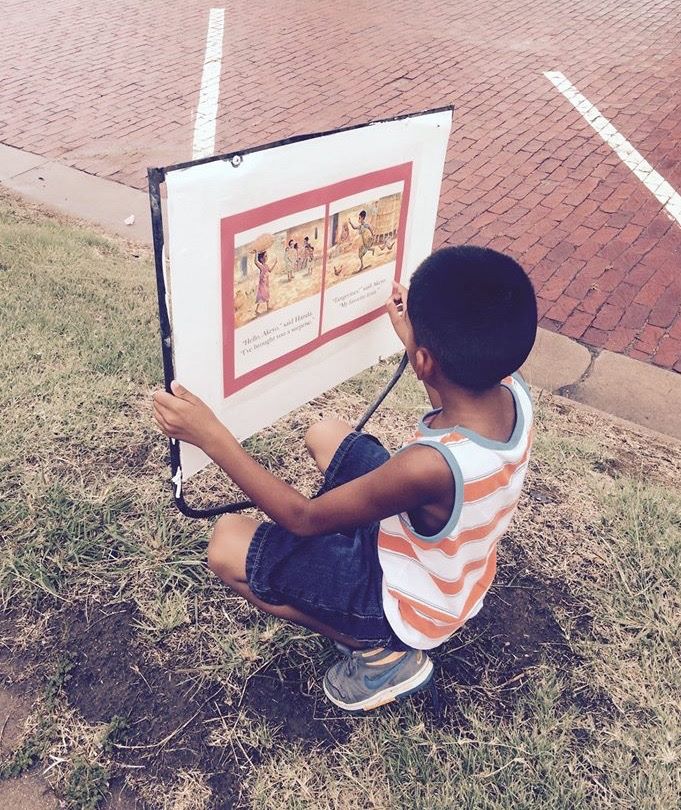 Participants ran between the pages instead of walking.